Welcome to our home
Your company will be picked up by RIB boat in Stockholm City Centre. You will have an exciting trip to our island Granholmen. We will take care of you in the best manner possible. You are the only guests and your night will be private.
After Champagne and sandwiches on the dock we invite you to an exclusive 5 course dinner together with carefully selected wines. You will have your dinner on our veranda with a fantastic sight of Stockholm Archipelago. After coffee and avec the RIB will take you back.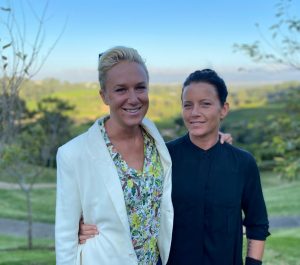 About our hosts
Kajsa Bergqvist have always had a passionate interest for wines and cooking. After her career as an athlet she has had a dream of running a restaurant in the Archipelago. Now that dream has come through in the beautiful mansion on Västra Granholmen.
Josefin Holmqvist has a long and solid experience from restaurants and bars in Stockholm.
Maximum 12 guests
Pris on request
"We had a fantastic evening with our management team together with Kajsa & Josefin at Qvistarna on Holmen. The dining and wining were top notch, everything delivered in the great Archipelago. Do not miss this one out!"
Lars Stugemo President/CEO HiQ International