The Ultimate Archipelago Experience
We start our RIB tour from central Stockholm. In the outer Archipelago we usually meet both seals and eagles. We stay for a while and get acquainted. Before returning back to Stockholm we stop for a typical swedish "gofika" (coffee/tea and cinnamon rolls) at Ingmarsö Krog.
It is also excellent to combine the seal safari with lunch or dinner at one of the Archipelago's good restaurants. We know where.
Time 4 hours.
Send in the Inquiry or call 08-611 1929.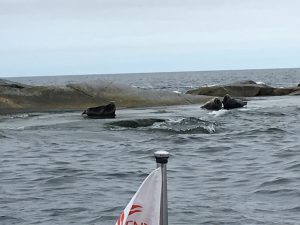 Inquiry and price example
Related events
Epic Landsort by RIB
Visit the most southern island of the Stockholm Archipelago. Populated since 16th century and still in good shape. On the bucket list for many!
Read more
RIB Charter cruise in Stockholm
We know every corner of the Archipelago. We pick you up and go wherever you want.
Read more