Taylor Made Events in Stockholm Archipelago
Our skill is to customize your experience. We know every corner of the Stockholm Archipelago as well as all the interesting people. We can find the right adventure for you among our 30.000 islands. Share our Love to the Sea!
Customer feedback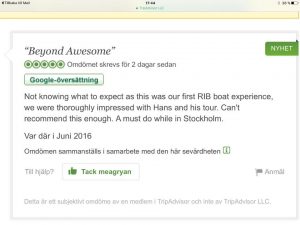 Gårdagens tur i skärgården var en lyckad upplevelse och en fin stund att dela med vår kund. Under kvällens gång fick jag höra positiva kommentarer om turen. Jag kan bara konstatera att det var helt rätt att välja åka RIB-båt med vår kund
Jag anser att konceptet som du har är någonting som jag varmt kan rekommendera till mina kollegor. Det gav mycket mervärde till oss att få höra lite mer om olika hus som vi såg under turen och också att du delar beskrivning av rutten dagen efter som jag kan vidare dela med kunden idag. Mycket uppskattat.
Stort tack…
Tack för en mycket lyckad och uppskattad körning. Flera var ju helt lyriska!
Tusen tack för ett strålande arrangemang. Allt fungerade perfekt från början till slut. Och vädret kan vi ju inte klaga på direkt. Det var magiskt att köra hem på kvällen, med bleke och måne. Födelsedagsbarnets mungipor var i "uppläge" hela kvällen och hela vår överraskning för honom blev nog ett minne för livet, både för honom och oss!
Stort tack för igår! Mycket uppskattat, både båtturerna och restaurangen/maten. Världsklass!
Tack för en grymt bra tur!
Tack, alla var supernöjda med körningen. Bra jobb, kommer säkert fler uppdrag.